Test, Measurement and Automation
Baird has a long history of success in the Test, Measurement & Automation (TMA) sector. As one of the first investment banks to establish a dedicated TMA coverage effort in 2000, we have completed over 70 M&A transactions representing over $17 billion in deal value. In addition to M&A, we have raised capital for companies in this sector to facilitate growth equity investments or recapitalizations from public and private sources. We have deep knowledge of the market participants and immediate access to key executive decision makers in C-suites, members of Boards of Directors, Managing Partners of private equity firms and other influencers, built over years of close interaction. Our transactions have involved many leading industry strategic participants and private equity firms with interest in the TMA sector. Our investment banking efforts are supported by Baird's equity research coverage of over 5 public companies participating in the Test, Measurement & Automation sector. This complementary platform provides our team with unique and highly useful insight into the market trends and key secular drivers in the TMA industry. We welcome the opportunity to discuss the sector and our insights more deeply with you.
Let us help you write your growth story.
Joel Cohen
Managing Director
+1-312-609-4924
jcohen@rwbaird.com
Julien Darmon
Managing Director
+44-207-667-8415
jdarmon@rwbaird.com
Satoshi Matsumoto
Managing Director
+1-646-557-3201
smatsumoto@rwbaird.com
David Steinkeler
Director
+1-312-609-7019
dsteinkeler@rwbaird.com
Randy Yang
Vice President
+1-312-609-7042
ryang@rwbaird.com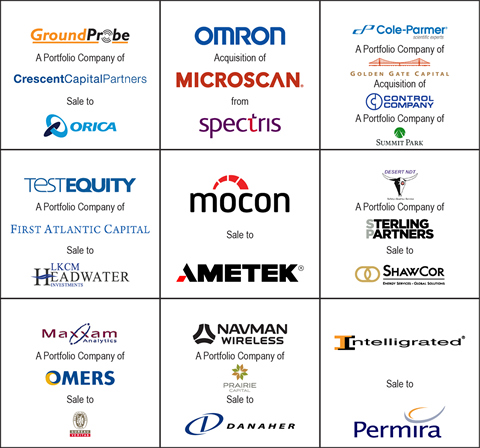 The above transactions were selected for their relevance to the Industrial sector and do not represent all Baird transactions. View our website at rwbaird.com/investment-banking for a full list of transactions.