Baird has substantial experience working with providers of highly-engineered thermal technology solutions having completed over 25 transactions since 2004. Thermal management involves systems, equipment, and components used in applications such as residential, commercial/institutional, electronics/data centers, industrial/process, food & beverage, oil & gas, refinery/petrochemicals, power, and transportation. Thermal management products control climate and emissions, regulate thermal properties in processes, and manage temperatures in products. Favorable secular growth trends that underpin increasing demand for thermal technology including energy efficiency, emissions control, urbanization, recurring replacement and aftermarket demand and increasing magnitude and complexity of thermal challenges faced by developers of innovative products across a range of end markets and applications. With the significant diversity of thermal technology applications and end markets, Baird's unique collaborative approach to investment banking client service combined with our standing research platform position us well to provide high value-add service to our clients.
Let us help you write your growth story.
Joe Packee
Managing Director
+1-414-298-7644
jpackee@rwbaird.com
Nick Sealy
Managing Director
+44-207-667-8370
nsealy@rwbaird.com
Dale Rudow
Director
+1-414-298-7495
drudow@rwbaird.com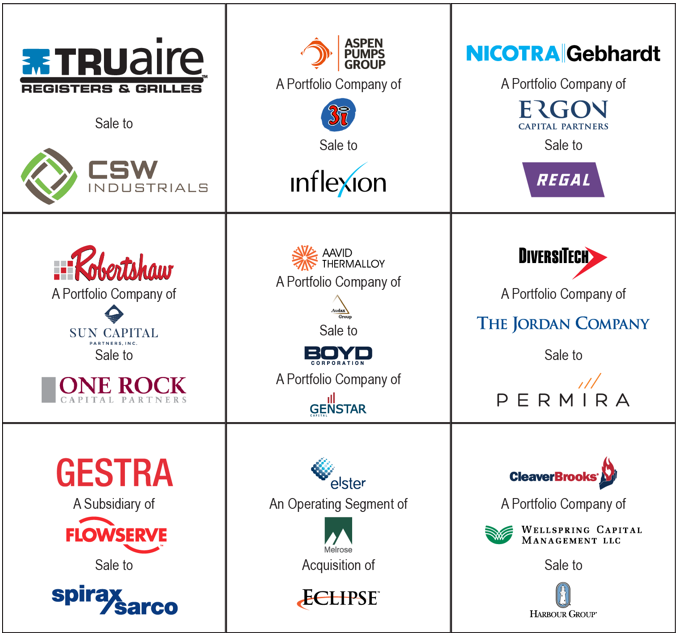 The above transactions were selected for their relevance to the Industrial sector and do not represent all Baird transactions. View our website at rwbaird.com/investment-banking for a full list of transactions.